Did you know that you can run an  E-commerce store without actually owning any physical stock? Learn how you can start and run a successful drop-shipping business. 
Drop shipping is an online business where you create an online shop then connect it to a supplier who has the real stock of items.  The customer comes to your online shop and finds a number of product photos and descriptions. He/she then chooses an item and places an order. The order is then automatically transmitted to the store supplier who in turn brands, packages the order items and ship it directly to the customer. The customer receives his/her ordered items and transaction closed. The owner of the drop shipping business earns the profit which is the price difference between what the customer pays and what the supplier charges. For example, if an item like a laptop computer is sold by a supplier at a price of US$201, a drop-shipper will list the same item at a price slightly higher than that like US$240 in his online store. When the customer completes the order, the difference which is US$39 will automatically be sent to the drop-shipper's account while the US$201 will be sent to the supplier. This is beneficial to both the supplier and the drop-shipper in that the supplier makes more sales and enables him to concentrate on availing the products and the drop-shipper concentrates on marketing the products and earns the profits.
As a drop shipper, you do not need to to own the real items that are on your store. You sell items obtained from a supplier directly to the customer and since the items are sold on demand and delivery is fulfilled by the supplier, you literary do not interact with product items at anytime.
Due to the fact that, drop-shipping do not require physical store or warehouse, it is very cheap to start and run the business.  The only expense you will incur to get started is that of setting up your online shop which is often below US$100 depending on how you choose to open your shop. Once your shop is up and ready for launching, the other expense you will incur just like in other businesses is that of advertising your products. To grow your business, you will have to advertise it through channels like word of mouth, online and offline ads, SEO, social media etc.
Are you ready to start a drop-shipping business? 
Successful drop-shippers make an excess of US$12,000 per month in pure profits. The secret is simple, they have drop-shipping stores with products that:
Have a high demand all year round
Have high profit margin
Have either free world wide shipping or low shipping cost
Are not obviously found in local market
Are from suppliers who are efficient, and reliable
Have short delivery time.
There are three ways you can own and run such a store: by buying ready made store which have existing performance metrics, or by letting expert dropshippers make one for you with customized solutions or simply learn and do it your self.
---
Method 1: BUY A READY MADE DROP-SHIPPING STORE
Stop Guesswork and Buy a copy of  ready made store that earns you a profit of US$10K+ per month. 
Each store costs you a one time charge of US$300.  The only thing you will need to do before you buy the store is to get this low cost but powerful Cloud VPS Hosting which costs US$6.00Per month. The Intersever Cloud VPS Hosting 
If you have money and you see a nice car, you buy it. Same to these drop-shipping stores. You can buy a ready made drop-shipping store and start selling the products right away. The key advantage of buying a ready made store is obvious, it comes with proven data and that information of how the store products perform in the market. such information include marketing channels, store profit and the number of visitors you require to make such profit. We strongly recommend you buy one such store and start promoting the products right away. Getting a store this way eliminates a lot of time and costs which would have been spent in product research and market testing.
BlueHost VPS Hosting Starts at US$19.99. Get it Now
Before you buy the store, You need a reliable hosting provider who can guarantee that your store will be secure and always available online even in event of increased customer activities e,g like during Black Friday Season when most e-commerce sites go down due to surge in customer activities. Avoid shared hosting when running e-commerce store, instead get a low cost cloud VPS server for your drop-shipping store. We recommend you buy The Intersersever Cloud VPS Server. It costs US$6.0 per month and it renews at the the same rate. You can also pay for this web hosting service monthly hence if you are just testing out if this drop-shipping business will work for you, there is no need of committing several years with your hosting company.
Ipage VPS Hosting Starts from 19.99 Per Month Get it Now
After you have created a hosting account, select and buy ready made store at a one time price of US$300.  Buy a store that will bring you more profit per month but also consider buying a store with products that you 'love' you know about or that you have used yourself. that way, you will be in a good position to handle customers who like inquiring alot about a product before buying. A store with a monthly profit of more than US$500 Per month is OK. You can always increase the sales and that profit by scaling the winning marketing & advertising strategy. The good part of it all is that even if the store has a profit of US$20,000+ , you do not pay more, you just pay US$300 for the store and there you have it all yours.
Get a Ready Made Dropshipping Store
---
Method 2:
 GET CUSTOM MADE DROP-SHIPPING STORE
The second method of acquiring a drop-shipping store is by letting a drop-shipping experts build it for you. This method is best if you need an helping hand in correctly installing, designing, adding products, identifying and connecting your store to a reliable suppliers, doing site policies and terms of use and other legal pages and so on. Sincerely speaking, it would take more time to put all these thing together correctly if you have no prior expertise or know how therefore, when you get an expert to do the job for you, you will not only save time needed to put up your store but also, you will save a lot of money than you could possibly imagine through getting a correctly done store. Besides this, the experts help you to a void critical mistakes that are mostly done by most drop-shipping starters and also you get the best advice on running your new store.
If you have a particular product in mind, you can inform your store developer to add it to your store or you can choose from a list of ready made drop-shipping winning products and they will be added to your store. This greatly reduces the time you would have taken researching the winning product in whichever niche of interest.
Unlike in method one where you buy a store that already has some results with some free returning customers, in this method, you will start marketing your store from scratch meaning you will need to find and retain every customer who lands on your store.
We recommend you get a custom store if you need to drop-ship products that are not already available in those stores that are on sale. Just like in method one above, You will need hosting where your e-commerce store will be hosted online.
We recommend Intersersever Cloud VPS Hosting. due to its high speed, and uptime that is literally 100% because, your site get hosted in multiple servers. when one goes down or has an issue, your site is automatically loaded from a different server and the process is automatically controlled by the servers' AI. This hosting plan is also low priced. The site resources can easily be adjusted to cater for peak shopping seasons that result from surge in customer activities.
The cost of getting a custom made drop-shipping store is US$299. Order for one here.
Let the experts build you a Custom Made Dropshipping Store
---
Method 3:
 BUILD YOUR  DROP-SHIPPING STORE ALL BY YOURSELF FROM SCRATCH.
It is not a rocket science to build a drop-shipping store,  you can build it from scratch all the way up. Here is what you will require;
An existing Cloud VPS or Cloud Dedicated Web Hosting account with WordPress already installed.
A list of products that you need to dropship
An Alidropship plugin
Basic Knowledge of maintaining your site and ensuring security of its data.
STEP ONE: GET A RELIABLE HOSTING SOLUTION
If you decide to create a drop-shipping store all alone from scratch, it isn't difficult. Start by getting a cloud VPS server or a dedicated Hosting account.  Avoid using shared hosting for security reasons. An e-commerce store will contain lots of customer's sensitive data which will include customer's credit card numbers, paypal emails and real addresses. It is risky storing such data on shared hosting due to obvious security risk associated with shared hosting. In shared hosting, several sites get hosted in the same server hence  they share cost as a result shared hosting package is usually cheaper. but the problem is, when one site is hacked, other sites on the same server may be affected too. This a times may lead to unexpected downtime or loss of customer data which will cause you serious problems with data protection laws. To avoid such, it is advice-able to use a VPS hosting solution otherwise, dedicated hosting is the best if you can afford it. To avoid the issue of site downtime and distributed denial of service (DDOs) attacks which are very common issues nowadays, Cloud hosting is the solution. This is where your site is hosted in several servers which are located in different locations across the world. When one server develops a problem or is overloaded, the other server automatically takes over and loads your site. This way, your site will literally never be down at any particular point. We therefore recommend you start with a low cost Intersersever Cloud VPS Hosting. you can then upgrade to dedicated server later as your business grows.
---
STEP TWO: INSTALL WORDPRESS
WordPress is an open source Content Management Software (CMS) that is used to manage content on the web. It is free and it currently powers over a third of all websites that are available online. Big and small businesses alike love and use WordPress for its flexibility and versatility. We will use WordPress to create and manage our drop e-store.
Therefore, you will need to install WordPress from your hosting back end. Should you have difficulty installing it, you can ask your web host provider to do it for you. Most web-host providers will readily install it for you and at no extra cost.
STEP THREE: CHOOSE A FREE OR PREMIUM STORE THEME AND INSTALL IT TO YOUR WORDPRESS SITE
The next step is to install your store theme. We recommend you get a store theme that is optimized for drop-shipping. You can choose a Free theme or choose nice low priced premium drop-shipping store theme. Most premium store themes will cost anywhere around US$59 – 69 Choose the  Best Dropshipping Store Theme 
As mentioned earlier, Security of your site takes the number one priority if you have to succeed in this online drop-shipping business. One of the simple way to ensure that your store is secure is to choose a theme from a developer who is reliable and updates it frequently that is why we strongly advice that you get a nice either free or premium theme from Alidropship themes . All the themes listed  are optimized for drop-shipping business and are frequently updated for security and better performance.
STEP FOUR: BUY, DOWNLOAD AND INSTALL THE ALIDROPSHIP PLUGIN
The fourth step in creating your store is to buy, download and install the Alidropship plugin to your WordPress site. To do this start buy buying the Plugin from Here Alidropship Wordress Plugin Download it to your computer then upload it to your WordPress plugin area, install it and activate. The plugin costs a one time charge of US$ 89.00. No additional monthly charges and this will save you lot of money in the long run.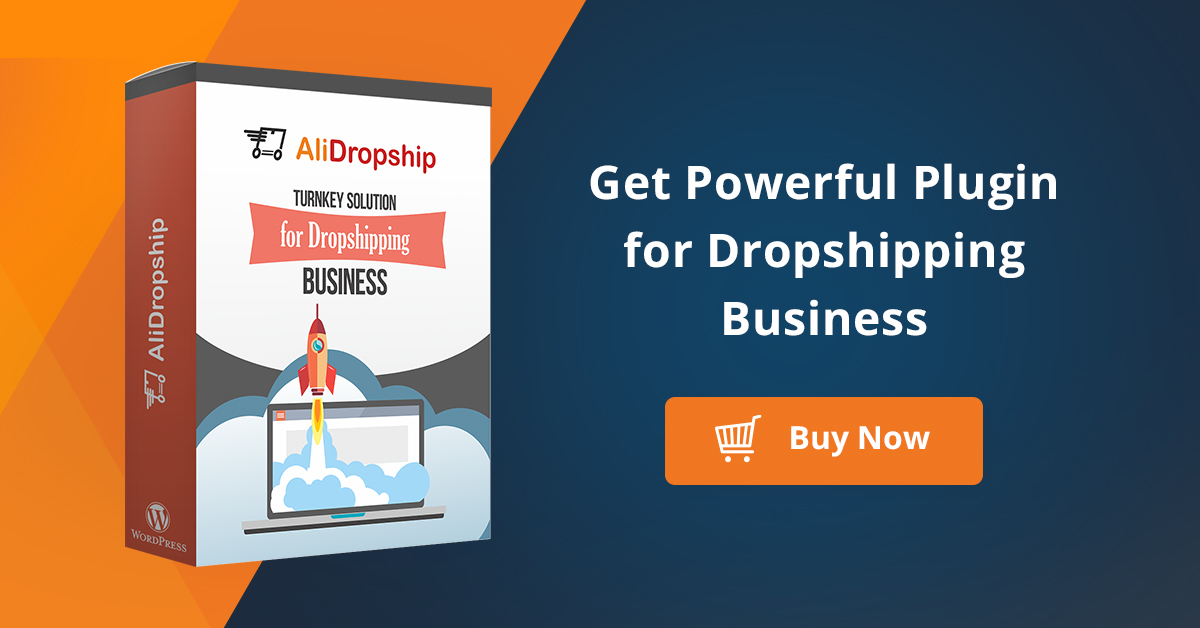 The Plugin will come with all in one solution for doing a drop-shipping business. These includes:
Woo-commerce installation
Integrated product search and import feature- This enable you to search a product and add them to your store .
Price Auto-update and Automation of all processes, Things like product pricing do change with time and season, the auto updating feature ensures your store prices are the most current, other processes include the process of
Automatic Order Placement and Tracking
Customization feature- To help you customize your store
Marketing Features- To help customers place and track order easily from their end and also enables you to track things like abandoned carts.
Payment integration features- To allow you add your payment channels to your store like Paypal, 2Check Out, Stripe, Pay U and many more.
With the Alidropship plugin installed in your site. You will be able to access over 500k+ products from Aliexpress that you can drop-ship.  Choose the best selling products in whichever niche you like. Add them to your store and product details will be automatically added too, Add your payment channels for example, to start accepting Credit cards online, you will need a payment gateway like Paypal, Stripe, 2CheckOut etc. Just ensure that the payment channels you choose is convenient to your target customers. For instance PayPal has more global reach than any other online payment channels around. Therefore, if you fail to add PayPal as one of your payment gateway you will potentially be locking out several customers without knowing. After you are done with all the above steps, there you have your store up and ready.
---
LAST STEP: MARKET YOUR STORE PRODUCTS
Regardless of the method you use to acquire your store, whether by purchasing a ready made store or ordering a customized store or you created one all alone from scratch. you will require a customer in front of it doing a product purchase before you get those dollars $$$$.
Just like a new car, once you have bought a new car, you cannot start the journey without fueling it. If you need to go far, you will need to fuel it more and vice versa. Your ready store can be likened to a new car. Product advertisement can be likened to fuel, only after you have fueled your car is when you will be able to move and enjoy your new car similarly it is after you advertise your products you will be able to make sales thereby enjoy earning the profits.
It is a good idea to do some product purchase from your new store just to get that actual experience of what your visitor will have to go through and the kind of product he/she will receive. This is important but often overlooked by most starters. It will help you fix simple stuffs like links not working properly or broken, see if the payment channel is working correctly as expected, system emails are sent with right messages and are delivered to inbox and not spam box. Doing this helps to identify common store issues and hence enabling you to fix them well before your first customer comes knocking. This helps to eliminate things like getting too many abandoned carts which are caused by things like non functioning links or missing pages etc.
When you order the product too, you will be able to asses the delivery time lines, the quality of the product you will be selling and most important, you will be able to check on the branding your supplier will give on your shipments.
If you are satisfied with every detail of your store and the product you have bought from it. It is time to start advertising your store products. Just like a rocket headed to space, it has to be launched with maximum force from the earth surface because the gravity is maximum near the earth's surface and reduces upwards till it becomes zero in space. your new store also required lot of product advertisement at the beginning and store awareness at the beginning which may give little or no returns at the beginning. but as you continue advertising by every channel including words of mouth, you will start gaining customers slowly till you start getting returning customers who will come back to your store free of charge. What does this mean? If you are having a new store, you will spend a lot of money and time advertising it's products with little sales and profits  at first then as you continue advertising, it will reach a point where your your customers develop trust with your store products and they will come and keep coming as long as your services are good than those of your competitor. The store profit will grow overtaking your cost of advertising. It is at this point you will be able to enjoy your effort.
The bottom line is, you have to advertise your store products to reach more clients and make sales to get profit. Advertising must be continuous till you get to a point where profits overtake the cost of advertising.  Just like in a new car, you have to fuel and keep fueling to keep going
Tere are many methods of product advertising but we recommend the use of  Pay per click (PPC), socialmedia marketing (SMM) and search engine optimization (SEO) because they have proved to work perfectly. Test different marketing strategies till you get the most effective marketing channels and most effective ads styles then scale on ad campaign that brings you highest return on investment (ROI) 
Create a free membership account with us to learn more tips on how you can make your drop-shipping business bigger and better. Our  members can also apply for a advertising fund of up to US$ 50,000 to help you advertise and grow your drop-shipping business.
---

---
Disclosure: This site or its pages contains advertisements, referral links, sponsored content and other paid product promotions. We may earn compensations when you view,click, take action or buy from our sponsors and partner sites. This does not in any way add cost to you but enables us to provide our services to you for free. If you would also like to advertise or have your promotional content displayed on this site for free, please check on Sponsors and Partner's page.
---