Start and run a successful online blogging business. Here are The Three key steps.
A blog is just an informational website that is frequently updated with trending ideas in a particular niche. you can create blog in any line of business e.g, if you like fashion and clothing, you can write about latest fashion in the market and publish your content on your blog (personal or business website). If your content is authoritative, you will build a large audience over time who can be monetized through ads and direct sales and other promotional techniques.
Blogs create a useful link between internet users and products sellers. This is because most people come to the internet not with an intent to buy stuffs but to read news, find out what is trending or what is happening around, search information on something and so on. Some of these information are often found in online blogs hence making blogging a useful part that helps bridge the informational gap usually between service/product providers and the online user.
Let us look at an example.
John who is an IT student in a university  is interested with buying a computer for his studies and personal use but he does not know which computer is best for him due to so many computer brands available in the market. So, He decides to do a Google Search to read more about computers, At this point, A blog with detailed information about different computers, their prices, and availability will be of much help to John to help him decide his next move as to where to buy the computer and at what price. Therefore, a blog plays a crucial role in providing online information to internet users. It does not end there, you as a blog owner, you will benefit by earning money directly from your blog through displaying ads. Yes,  Business owners and product sellers will pay you to display their ads on your blog. The key advantage about this method is that you write about a certain subject once and you keep earning from it for several years as long as your blog is available online, you will keep receiving online readers provided your blog's content is relevant and optimized for search engine visibility. Some blog owners earn more than six figure dollar income on monthly basis while some blogs generate nothing at all. The trick lies in the kind of content you write about, your blog's monetization strategies and blog's promotion strategies.
Here below are three steps you will need to take to build a blog, monetize it correctly and effectively promote it. It is however important that you take note that by starting your blog, you will not become rich overnight. You will be required to create a blog, work on it by creating quality and original content to it daily and lastly, you will need to promote the blog to get consistence traffic before you could start earning the much anticipated dollars. it isn't hard, just look at the below three steps and you can make a profitable blog.
Step One: Create a Blog and add content to it
The first step in setting up your blog is to choose an area of interest 'niche' This is a line in business that your blog will be about. For example, if you love travelling, then you can create a blog that is about travelling. in such a blog, you can write about various travel tips and destinations targeting a particular group travelers for example student who travel abroad or tourists etc. Your blog can be on any topic under the sky but should target certain group of people in the society and should aim to solve a particular problem. For example in a 'travel tips' blog, you may research and find out some of the best travel advice and tips that are very relevant to travelers. This will make your blog more helpful  to readers hence higher chances of being loved by Google.
After deciding on your blog's niche, You need to decide on a topic of the blog for example: A travel blog that targets the students travelling abroad can have topic like 'Travel Tips For Students Travelling Abroad' Your blog topic will guide you create the blog domain i.e blog's web address that your visitors will use to reach your content. It is nice to make your domain name short if possible but most importantly, your domain name should be memorable and should stick to the keywords of your blog's title. like in above title. You can create a domain like traveltipsforstudents.com If the domain is not available for registration i.e has already been taken, you can just adjust the domain name a bit by adding suffixes or prefixes or even changing domain TLDs which are domain extensions like instead of using .com you can use .net or .site etc.
Get a free Domain when you buy hosting at US$1.99 per month From ipage.
The next thing is to register your domain and buy a hosting space where your content will live and be served from. There are many webhost companies that can host your blog and at different prices but the fact is, they are all not the same. Some a terribly slow while others are fast but just too expensive for everyone especially to those starting out. It is for this reason that we recommend you begin with a low cost shared hosting that is fast, reliable in terms of up times and excellent customer support. BluHost Is the best webhost for hosting blogs mainly due to its fast loading speeds, low introductory prices and excellent customer support. This is simply why more than 2 million Plus blog and site owners trust it and host their websites and blogs with them. we recommend you host your blog on blue host. On Bluehost, you will also be able to register your domain for free for first year and most importantly, the expert support from bluhost customer care team.
Create your blog with Bluehost
After your site is up and running, the next thing is to add your content to it. The best blog content is that which is easy to read, very helpful and in line with your title.Your Bluehost blog can accommodate unlimited number of pages, photos and videos etc. Just ensure that whatever content is on your blog is original and of high quality in addition to being very relevant to your blog's title and goal.
A2Hosting is another web host that has infrastructure designed for speed. Blogs hosted at A2hosting have faster load time and we recommend it if you need really fast loading blog.
Create your site with A2 Hosting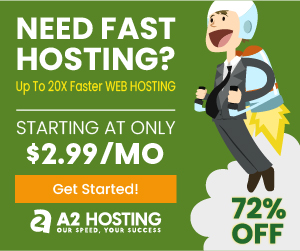 ---
Step Two: Monetize your Blog
Once you blog is online, the next thing is to monetize it. This are ways of making money from your blog. If you are not interested with making money from your blog, then you can skip this process. You can guess how many people do not like money and are going to skip this process…
The easiest and most commonly used method of monetizing your blog is to display ads on its pages. there are many different kind of ads and ad sources. we recommend you get ads from Google Ad sense or from Propeller Ads.
Most people utilize Google adsense ads because they pay well  Due to high demand of ads from google, Google operates under very strict terms making it very difficult for most bloggers to get accepted. Some bloggers do get accepted but also get banned soon for violating any of adsense terms. The secret is, just play by the rules and you will keep getting ads on your site from Google. If you get accepted well and Good but if they do not accept your blog, Just apply for ads from Propeller Ads. You will get similar ads as those from Google.
It doesn't really matter where you get your ads from whether you get the from Google or from Propeller Ads its all the same. What matters most is how many ads you are able to display on your blog and how many people are interacting with your ads on hourly or daily basis. If you need to make more money, you will need more ads this can be best achieved if your blog has more pages with quality content. For example if your blog has less than 10 pages, it  may not be able to accommodate as much ads as a blog with more than a thousand pages. The more the site pages the more the ads your blog can contain. Your site visitors will enter to your site through any of your site pages hence the more they are the better.
The second factor that matters most as to how much money you can make from your blog is how many people interact with your ads. This can easily  be achieved by promoting your site which is discussed here below. You must promote your site so that real site visitors visit your site.
Step Three: Promote Your Blog
Like in any business, you will need to promote your site to get real people visiting your site. As much as possible, avoid purchasing traffic this is because most purchased traffic are not targeted hence often give poor results. Instead, use free or paid blog promotion methods to get the real organic traffic.
To promote your blog for free, you can do Search engine optimization (SEO) so that your site appears at the top result page in common search engine. This however takes time . The easiest way to promote your blog for free is by writing viral articles and posting them on social media e.g on Facebook, Pinterest, Instagram twitter etc. For example to easily post your blog link to go viral on social media,i.e reach several users for free, you can use some simple tricks like re-posting an already popular news feed with your blog link embedded creatively without altering the content that is going viral. Learn how to do this correctly in our Members area.
If your blog is about specific product and directly encourages readers to buy or subscribe such products e,g blogs on product reviews and promotions, you can use Pay per click methods or the paid social media advertising to get more targeted visitors who are interested with products in your blog. The only thing that you will need to ensure and maintain is to have a positive ROI (Return on investment) i.e just ensure that the earning per click is higher than the cost per click. Learn more on how to use paid technique effectively in doing online product and blog promotions. Create a free membership account.
---
---
Disclosure: This site or its pages may contain advertisements, referral links, sponsored content and paid product promotions, We may earn compensations when you view,click, take action or buy from our sponsors and partner sites. This does not in any way add cost to you but enables us to provide most of our services to you for free. If you would also like to advertise on this site for free and be part of our sponsors, please check on sponsors page.
---