What is Online Marketing Automation?
Marketing automation is method used by online marketers to automatically collect leads and nurture them till they convert into successful sales. The connection does not end there but continues over time resulting to a steady stream of buying customers who keep returning to your product page over a long time. Usually, email and SMS are most common channels used in keeping the connection and engagement with email marketing being the most preferred channel due to its low cost and 'coldness' compared to SMS. To date email marketing is proven to be the most effective tool in automation marketing and has a higher return on investment (ROI) than both social media and search engine combined. SMS on other hand are preferred to make quick reminders that require instant attention because their open rate is close to 100% and responses are near instant.
If you are an online marketer who promotes your product through social media or in search engines either through paid or organic methods. Then you need to incorporate automation marketing to help you automatically capture leads and nature them into happy returning customers.
Best FiveMarketing and Automation Tools
Your success with marketing automation begins by getting the best email marketing and automation software that:
Have high deliverability – email/sms deliverability means everything when it comes to automation marketing otherwise, you may end up writing very good campaigns that are never delivered in recipient's inbox and you will be losing out.
Comes with ease of use- Getting a system that is easy to use means saving you a lot of time and will  help you do things correctly from the start. This will help you concentrate on your promotion activities while the automation system does the rest e.g in reminding those who left the cart abandoned, delivering special offer campaigns and so on.
 Gives you bigger growth potential without overcharging you unnecessarily.- Automation marketing is meant to  help you increase conversions not expenses on your part. Simply get what works and not what is expensive. Best marketing software will enable you build a larger audience and send out more engagement campaigns at a reasonable price.
Real time Analytics and campaign tracking- Real time feedback and reporting of campaign performance will help you identify what works and what don't work. then optimize your effort on what works.

Live support whenever you need it –

Though the whole process is automated after it has been correctly set up, a times things go south  and not as expected. Therefore live support is critical factor in such times.
Based on above factors. we recommend the following email and automation platforms.
This is our favorite email marketing and automation platform and we strongly recommend it due to one fact. It offers more features at a cost that is a fraction of what the competition have to offer. For example, if you have a list of 10000 contacts, you will only pay US$ 50 per moth while for a list of less 1000 contacts will cost you just $10 of . For starters who are just testing the water, you can test the free plan that allows you to build a list of up to 1000 contacts and send up to 12000 emails per month, These at no doubt helps anyone who is just starting out on a small budget such that, you only start paying after making some milestone.
There are many alternative  email marketing service providers that allow new users to create free account and start building lists and sending out email campaigns but on a closer look, most of these alternatives give lot of limitations on lower plans until you join there premium plan that is twice or thrice the cost charged by Mailer lite.  For instance features like email automation, Advanced segmentation, interest group tagging and A/B testing are hardly found on free forever plan in most platforms. you get them for free in Mailerlite without limitation of time. You can also enjoy all the premium features that comes with Mailerlite for free during the 14 day free trial period. There free forever plan is available to enable you grow your business before you start paying.
This makes Mailerlite great platform for beginners especially those who are just starting out online marketing at a tight budget. you will  upgrade  as your business grow.
Start Your Email marketing & Automation with Mailerlite
---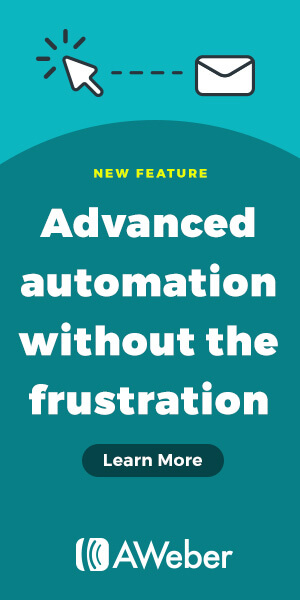 Unlike Mailer lite which is designed to give you more features for less, Aweber is designed to give you more sales result. That is more opens, more clicks and more sales. Email expert at Aweber takes a look at your objective and guides on every aspect of email automation marketing e.g on aspects like list growth, Monetization, copy writing, automation analytics, subject lines, analytics and industry trends. This in overall helps you to make more sales. Their plans begin at $19 per month for a list of up to 500 contacts and unlimited emails.



Try AWeber free for 30 days! – AWeber Communications
You get a discount when you choose a yearly plan. We recommend this if your focus is making more sales through email automation. Aweber recently introduced a free forever plan that gives you plenty of features and allows you to create a list of up to 500 contacts and allows you to send up to 3000 emails per month. You can try out Aweber's free package to catch a feel of their services  then upgrade later for more pro features.
Aweber Automation Marketing. Start Your Free Account
---
You need a bigger list in a shorter term? then get response is for you. It has features and training that assist new users to create a bigger list of 10 000+ in less than 90 days. That is if you enroll to their course. marketers can maximize their email marketing efforts by taking advantage of this free program and enhancing their lists with new, engaged subscribers. The list building program, used with GetResponse email marketing tools, is the complete marketing solution. Marketers are provided with the know-how and necessary tools to launch a comprehensive and effective email marketing campaign. The course is unique to GetResponse and created exclusively for GetResponse customers; both free trial and pro accounts that have less than 10,000 subscribers. Customers may choose from two program schedules: the 90-day fast track and the 180-day standard program. Each session consists of a video tutorial, presentation, and an article. Those who complete the program and acquire at least 1,000 new subscribers will receive a GetResponse University Certificate of Performance.
Why do they take this approach while the competition is busy giving free goodies like more contacts lists, more email sends per month and so on. It is because they seem to understand something that others don't. That is  if they manage to train you to succeed in your business,  they will have also succeeded in theirs. So, many beginners may think they are doing it right. but wait until your are tought by the expert who have been in business of email and automation marketing for over 10 years. you will notice a difference.
We recommend GetResponse to anyone who wants bigger result in the the long term. For example if you do not have a list, then you should actually start with GetResponse.  Take advantage of free training and get to know some simple hacks that your competitors use to capture , nature and convert clients. By just following their course and successfully completing their daily tasks , you can be assured of at least 1000 subscribes and not only that. You will also have converted many of those subscribes to happy repeat customers.
Their pricing begins at $15 for a list of up to 1000 contacts, with unlimited email and all advanced automation features. which include: Unlimited automation templates, Sales funnels (1 funnel), Unlimited lead funnels, Facebook Ads and Sell e-products. some of these features are only found in high end packages but you get them at a lower package at Get Response.
Test all their feature in the next 30 days for free . Start a free trial.
Get Response Automation Marketing. Start Your Free Trial
---
Active Campaign is another great marketing automation tool preferred by more than 100000 users world wide. Unlike all the three tools above, active campaign is tailored to give best customer experience (CXR). There business is not just about email delivery, opens and sale! sale! sale, they focus more on customer experience. But how do they achieve this?
They achieve this through their customer success expert. Once you join their platform, you can book a free 1:1 strategy session with one of their Customer Success experts, and they will teach you how to set up any automation you envision. Their education team regularly holds in-depth training webinars to help you become an Active Campaign pro. Their online members' only education center offers quick tips and deep-dive video tutorials. All this is backed by great  customer support specialists who are ready to assist you with any challenge that you may face.
It is through this great strategy that they help you as their customer to use their services to make your customers have a great experience.
They have a 30 day free trial that you can use to test their services and there after, you can upgrade to continue using their services. Plans start from US$9 p.m for a list of up to 500 contacts and unlimited email sends. Besides email automation features, you can use their SMS platform to give your customers important notifications that need instant action like when the package is ready for collection or any update regarding their account.
This is the best automation tool if your objective is to get and retain your customers through better customer experience. We recommend it to eCommerce or drop-shipping business owners
Active Campaign. Start Your Free Trial
---
#5 Sendlane
Sendlane is not just an email automation marketing tool, it is more of a Customer Relations Management tool (CRM). It has more features than most of tools mentioned above. We recommend Sendlane for those who needs a more powerful CRM services with strong deliverability. Its pricing starts from $79 per month for contact list of 0-5000. This pricing does not make it friendly for those starting from scratch especially if your list is below 5000 and you are on a small budget. However, it is the best tool to use if your list is above 5000 contacts due to  its many options and better deliverability with options of integrating automated sms workflow something that lacks in most of the tools mentioned above. You can take a feel of Sendlane service for free using their 14 day trial period thereafter, you can choose to upgrade if satisfied by what Sendlane has to offer. Try it free No credit Card Required.
Sendlane; Start Your 14 Day Free Trial
---
In conclusion, it can be seen from above that there are many automation tools and it may be overwhelming to choose the best for your case but that should not be the case. Each has its specific area of focus where it performs best.  For you to correctly choose the tool that will help you grow, you need to first identify what your specific goal is. If your goal is to build a list of leads quickly,  engage them and convert them into paying customers,  then Get Response would be the best tool for you. If your goal is to build a bigger list at a minimal cost and at your own pace, then Mailerlite is the best for you.  On the other hand, if your goal is to get  and engage customers more to make more sales especially for those running drop-shipping or e-commerce sites, then a customer experience tool like Active campaign  or email sales generation tool like Aweber would be the best for you. Sendlane platform is  engineered to deliver emails to inbox. It has highest score of deliverability i.e, (while automated emails from other platforms are likely to land in promotion folder of the inbox where they may even end up not being read, Emails from Sendlane are optimized to get delivered direct to primary folder of recipients inbox). This is because Sendlane maintains high level of list hygiene and delivery optimization for every user. You may need to get a dedicated IP for use in sending emails just to ensure your emails land in inbox primary folder something you don't have to if you choose Sendlane. Imagine writing a well crafted campaign that end up not being read because it landed in a promotion folder of the inbox? Sendlane Emails get delivered to inbox and in primary folder in many cases compared to the competition. No wonder their entry price is slightly higher than those of other platforms. Note that it is not expensive but just that it starts from 5000 contacts at $79 upwards; this pricing is comparable to that charged by other tools.
All the tools listed above have either a free trial of one full month or a free forever plan which is a good deal that allows you or anyone else to try the system before you start paying or just use the free plan without paying. This however  hurts the delivery reputation of the companies involved in the eye of most commonly used email service providers like Gmail or Yahoo in that, while your intention is good and geared towards growing your business in an ethical manner, another person may just be out there to use the free opportunity to broadcast irrelevant messages which end up being marked as spam by the recipients. This in-turn affects delivery of emails from that shared server IP hence affecting you even if you were not part.  This is indeed a challenge that affects deliverability of most email marketing service providers and has made Gmail and yahoo systems to lower the credibility of messages sent from such automation systems of shared server IPs by not delivering them to primary folder. most will be delivered to promotion folder where they may not be easily noticed.  No need to worry,  there is a way out. Get your own dedicated IP or run your automation system using platform of high credibility like Sendlane. The Sendlane company has invested a lot to ensure list hygiene is maintained at all time by all users hence maintaining a higher deliverability score compared to most of its competitors. Their lowest entry plan start from US$79 for a list of 0-5000 contacts with a very limited free trial period of only 14 days. Try Sendlane for  14 Days free of charge